In Caves All Cats Gray (Excerpt)

BY

RICH HENRY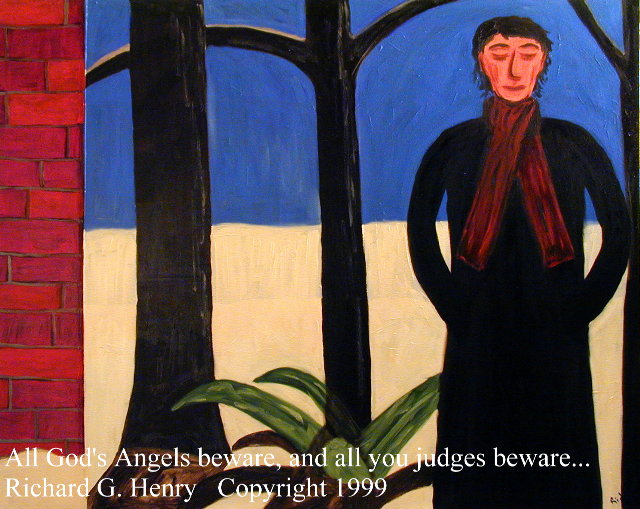 ACT ONE
INT. SMALL ROOM -- LATE AFTERNOON
A woman is sitting in a chair by a window, looking out over the ocean. She is about 30. She is wearing a black sweater and a long gray skirt. Her hair is up. She is thin and gaunt from nervousness. She appears to have come from work.
He is roguish but clean. He is wearing blue jeans and a loose fitting sweater. He looks like a laborer but one who has not been broken by the work.
They are in motel room. It is sparsely decorated. The most noticeable aspect about the room is the large window, which looks out on the beach. The coast is rocky but there is enough beach that people can walk there.
She is sitting by the window, looking out on the sea.
He is sitting in a chair opposite of her. He occasionally looks at her but does not seem physically interested in her.
KAREN
(under her breath)
This old life is much too long. Little point in going on.
MARK
What'd you say?
KAREN
(uninterested)
Nothing.
MARK
What's the matter?
KAREN
(speaking toward the window)
I don't know. I feel like I'm running to stand still.
MARK
What do you mean?
KAREN
Every time I think I'm moving forward, I end up in the same place.
MARK
That's how life is.
KAREN
(quiet and distant)
Why? Why does it have to be that way?
MARK
(shrugs)
It just is.
She looks at him for the first time.
KAREN
But it's so depressing. I can't carry on like this.
MARK
(worn out)
Like how?
KAREN
Spinning my wheels. Waiting for something great to happen.
He pauses. Searching for answer. Picking at the stitching on the couch.
MARK
Don't think about it so much.
KAREN
(Returns to looking out the window)
How can I not?
MARK
Think about other stuff. Fill your head with other things.
KAREN
Like?
MARK
(smart alec)
Like cars, and houses and kids and marriage and TV.
The empty words fall lightly on the floor. Ignored.
KAREN
Do you think stupid people are happy?
MARK
I think it's more of a case of not knowing they are unhappy.
She gets up and walks to the window. She presses her hand against the window to block out the reflection.
KAREN
Same difference?
He stands up. Moves slowly behind the chair.
MARK
No, not at all. You are aware that you are unhappy and it consumes you.
KAREN
Well shouldn't it?
MARK
Yes, of course.
KAREN
So being stupid would improve my situation?
MARK
Sure.
KAREN
(surprised)
How?
MARK
(cynical)
You could go out and buy shit you don't need. Eat at expensive restaurants; fill the emptiness with possessions, be more like other people.
KAREN
(laughs gently)
Believe me I don't need anymore crap. I have an apartment filled with books and music and clothes and TV's, computers, stereos. It was closing in on me. That is one of the reasons I left in such a hurry.
MARK
How long have you been this miserable?
KAREN
As long as I can remember.
Karen walks back toward her chair.
He walks toward the window. Looks out into the night.
KAREN
No.
(pauses-thinking)
That's not true. It just feels that way.
MARK
Try to remember.
KAREN
Why?
MARK
It will help. Maybe you can see where things went wrong.
KAREN
(offended)
Wrong? What do you mean by that?
MARK
I just mean the point where your life turned from simple distaste to total and unrelenting despair.
KAREN
(thoughtful)
It isn't anything you can pin down. It's like I just woke up in a hole and instead of trying to dig myself out, I just waited and waited for something to come along and save me.
He paces around the room deep in thought.
MARK
Did you lose your job?
KAREN
No.
MARK
Did your husband leave you?
KAREN
No.
MARK
Boyfriend?
KAREN
(annoyed)
No. I have not a significant other for a very long time. Since your so interested.
---
All Works, Paintings, Images, Novels and Stage/Screen Plays & Text. Copyright 1995-2002 Rich Henry. May not be reproduced in any form, mechanical or electronic. All rights reserved. Any use in advertising or commerce is strictly prohibited.
(C) 2000-2001 The Rich N' Famous Group