"FUNNY HOW LOVE IS..." (Excerpt)
BY
RICH HENRY
COPYRIGHT 1996-98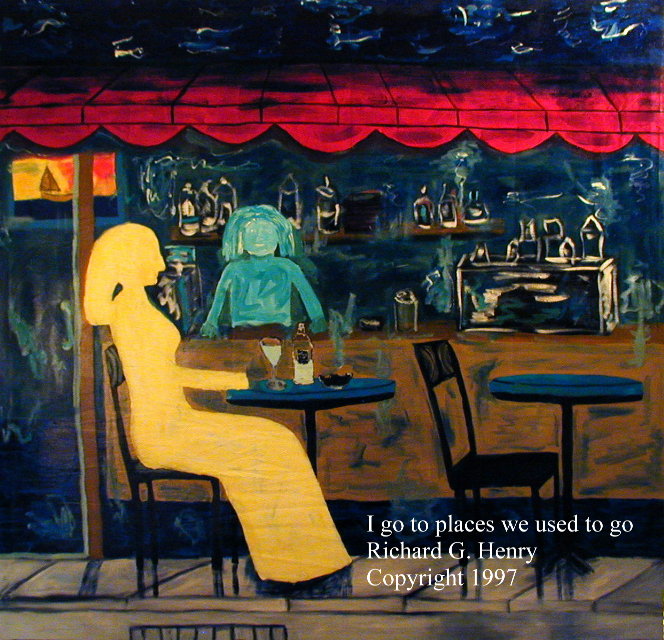 ACT ONE SCENE ONE
FADE IN:
EXT. RAINY SAN FRANCISCO STREET -- MORNING
TONY
(v.o)
Being in love with someone and they do not respond is like being underwater. When you see them you can barely breathe and existences takes on a blurred surrealistic quality. When it ends in tragedy, the memories begin to fade until the person reappears and the whole cycle of mourning begins anew. The first time I spoke to her on the phone I could sense the hesitation in her voice. The things she said were not true but they were not untrue. Gray. As I sat around later trying to convince myself that she just wasn't a `phone person' I remembered a line from a movie: "Love fades...." I can't recall the film. I was giddy giddy carousel at the idea of a new, blossoming love but the voice haunted me. I was unable to shake the curse. So, was doomed from the start? Love is supposed to conquer all things...Now I just don't know. I'm no longer sure of anything. The other side of love is darkness.
DISSOLVE TO:
INT. APARTMENT -- MORNING
The apartment is sparse and small.
Tony and Jen have just greeted each other and are about to begin rehearsal.
ANGLE ON: JEN IN FRONT OF DOOR
He and she are characters in the play. Names refer to the actors in the roles.
TONY
(greeting her)
Hey, what's going on? Ready to rehearse?
JENNIFER
Yeah. I read the play about two times this morning.
TONY
Great. Where did you park?
JENNIFER
In the lot. Is that ok?
TONY
Yeah, it should be all right at this time of day.
JENNIFER
Good. Cause I didn't really feel like driving around all day looking for a spot.
ANGLE ON: JEN SITTING DOWN
TONY
How long can you rehearse for?
JENNIFER
I've freed up three hours.
TONY
I'm free all morning.
They sit down on a couch. One at each end.
ANGLE ON : TONY AND JEN SITTING ON COUCH
TONY
(gently)
How have you been?
JENNIFER
Ok. You?
TONY
Not too bad. What did you think of us both getting called for this play?
JENNIFER
I think it's great. We could use a break!
TONY
Would you like any to eat or drink?
JENNIFER
No thanks. I think we should try and read it straight through.
TONY
Sure.
They begin a straight read making some small mistakes in inflection. She reads with a blank expression. Occasionally they glance at each other but they never allow any emotion to be exposed.
ANGLE ON :BOTH SEATED ON COUCH
SHE
Another season in the can.
HE
Yeah. Hard to believe.
SHE
Are you coming back next year?
HE
I'm not sure. They are dragging their feet on negotiating a contract for next year. And I'm leaving soon for summer stock.
SHE
What did you think of the play?
HE
I thought it was really good.
SHE
I think the performances outweighed the material.
HE
I can see that...
SHE
(Leading)
You were kind of sweet on the actress who played the sister?
HE
(unmoved)
Yeah, a little.
SHE
(Blasé')
Anything happening there?
HE
No, not really. Just a passing fancy. She is probably gone by now.
SHE
(playing dumb)
Gone? Where to?
HE
Back to where from whence she came.
SHE
I'm surprised.
ANGLE ON :TONY
HE
Surprised by what?
SHE
Nothing...Just surprised
HE
(angry)
Surprised by what?
ANGLE ON JEN
SHE
I'm just surprised her leaving is so understated. She tried so desperately to make an impression when she got here.
HE
Well she obviously made an impression on someone.
SHE
Actors love a big entrance but always disappear when the lights go down for the last time.
All Works, Paintings, Images, Novels and Stage/Screen Plays & Text. Copyright 1995-2002 Rich Henry. May not be reproduced in any form, mechanical or electronic. All rights reserved. Any use in advertising or commerce is strictly prohibited.
(C) 2002 The Rich N' Famous Group